Connect with your social network account
Posts: 34
Joined: 24 Sep 2016, 10:10
Location: Denny, Falkirk
Hi Folks, I've been hutting for some 40+years and over this time The "Flintstones Hut" has gone through many changes from it's original, somewhat derelict shambles state to a reasonable overnight/weekend retreat for those with a bit of a sense of adventure in them.. ................ I have become it's sole maintainer (with some additional help along the way though) since the departure of those others who were closest to it's development and maintenance over the years
I have, fortunately, also 'recruited' a few 'friends' who have taken an interest in it's continued existence in years to come and they've wholeheartedly joined in whenever they can, family and work commitments prevailing.
Unfortunately it is not getting the amount of use it deserves, or needs, to keep it looked after, even if it's only to open the door, clear out the mice and their 'leftovers', repair any damage, lay new poison... and leave!
I still have work in hand to get it back to 'comfort'(!)status, such as finishing off the futon bed base, re-attaching the upper bunk and completing the composting toilet..........................When I can..................
It is there for use whenever it can be arranged
Anyone interested in a wee 'hutting adventure' can contact me, ask questions, location, state, access etc.
(I intend to add more Posts regarding the hut's 'development') soon).
Stan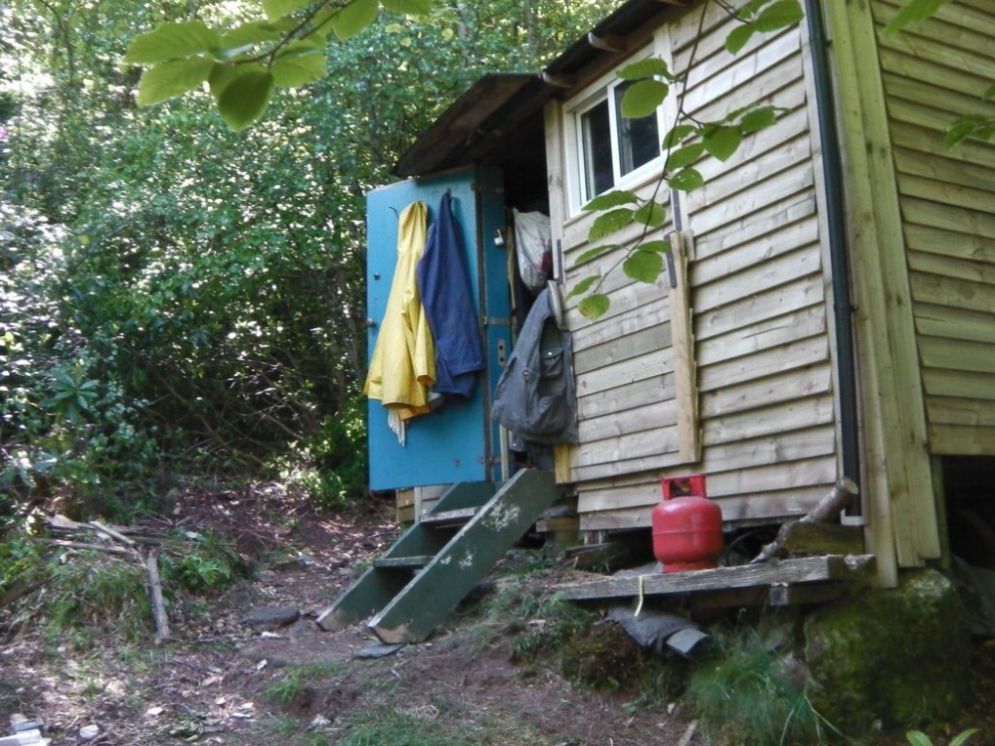 ---
Posts: 43
Joined: 16 Jun 2016, 13:43
What are the current sleeping arrangements, Stan?
---
Posts: 34
Joined: 24 Sep 2016, 10:10
Location: Denny, Falkirk
Hut a bit inconvenient for visitors overnight at present as I've got to refit the bunks etc. back together! Got half way through and took ill unfortunately. When done bottom bunk will become Double futon when pulled out or single as lounger. Single bunk overhead needs new support system provided.Room for the camp bed in floor area too.... Got things ready to go, just need to get myself over there, hopefully in the next couple of weeks.
---
Posts: 43
Joined: 16 Jun 2016, 13:43
Whereabouts is your hut, Stan?
---
Posts: 34
Joined: 24 Sep 2016, 10:10
Location: Denny, Falkirk
The Flintstone's Hut is on Arran
---
Posts: 21
Joined: 14 Oct 2016, 10:09
Hope you are feeling better by now, Stan. What a lovely offer. I would certainly be interested sometime next year so do please send me a private message once the place is sorted (especially the loo!) What is access like? Distance, steepness etc. I'm getting on a bit though fairly active. Thanks again.
Jennifer M
---
Posts: 34
Joined: 24 Sep 2016, 10:10
Location: Denny, Falkirk
Hi Jennifer, you're welcome. I was over last week, (for a funeral !, Old Mountain Bothys mate.....) didn't get enough done so still a work in progress. Hut still in use but a bit too 'rough and ready!' for the likes of yourself at the moment I would think. Will be fine for spring next year.. I don't see why not!!!.
I'll message independently to those who have expressed interest and update my Posts, and FB, as I go along... got a few Posts "in Draft"..
I've got a wee sequence of photos to illustrate the track too.
The track, taken carefully, with pair of walking boots it's not too difficult although 'strangers' might like to use a walking pole for one wee bit, coming down... about 15-20ft or so only. More muddy, slippery, awkward when it's been wet, much easier in the dry.
I usually accompany 'visitors' first trip, The 10p guided tour........
Hope your 'Get togethers' go well.......... Will try to make it sometime myself............. Stan
---
Posts: 21
Joined: 14 Oct 2016, 10:09
Have walking poles (and 10p!) so I'm really looking forward to next spring now. It will be good to see you at Hutters United sometime.
---
Posts: 1
Joined: 25 Mar 2017, 13:47
Hi Stan. New to hutting and just found your post. You still looking for folk to support the Flintstone Hut? My other half's based on Holy Isle so not far at all and we'd both like to get involved.
---
Hi,
I too have just stumbled across this thread. My wife and I have always dreamed of having a little cabin out in some woods somewhere.. we are both very envious..
This thread sounds like a wonderful opportunity to experience the good life.
Would it be possible for us to discuss what it's actually like, and see what work and commitment is required to make the dream a reality.
Arran is a little way from us here, we are in North Yorkshire, but I would love to discuss this lifestyle/hobby with other likeminded folk!
Anyone please feel free to email me on
dprynne@hotmail.com
---
---
Return to "Hutting Opportunities"
Who is online
Users browsing this forum: No registered users and 1 guest