Connect with your social network account
Posts: 34
Joined: 24 Sep 2016, 10:10
Location: Denny, Falkirk
I think a few things are worth saying about
'Furniture'
for a hut.
Simple self-build is easy.
The
leftovers
, odds and sods from construction will probably provide some sort of shelving for starters, maybe simple benches, stools. Make good use of as much 'composite' timber as possible, some of it is not very good for a woodburner, keep the rest, cut/dressed timber, for firewood.
Seating.
Granny's
old wooden chair
, or anyone else's you can lay your hands on legally, the one with arms, curved back. Some thick ply, cut curved, make it into
a rocker
…. For the 'new'
porch
!
Just make sure Granny's not in it when you start. You wont get her out of it if you make a good job either.
Picnic bench

,
using joist timbers (2x 7ins ?) or Scaffolding planks make your own, cheaper than bought. Transport in bits, build..use coach screw/bolts for strength. Paint with some good preservative…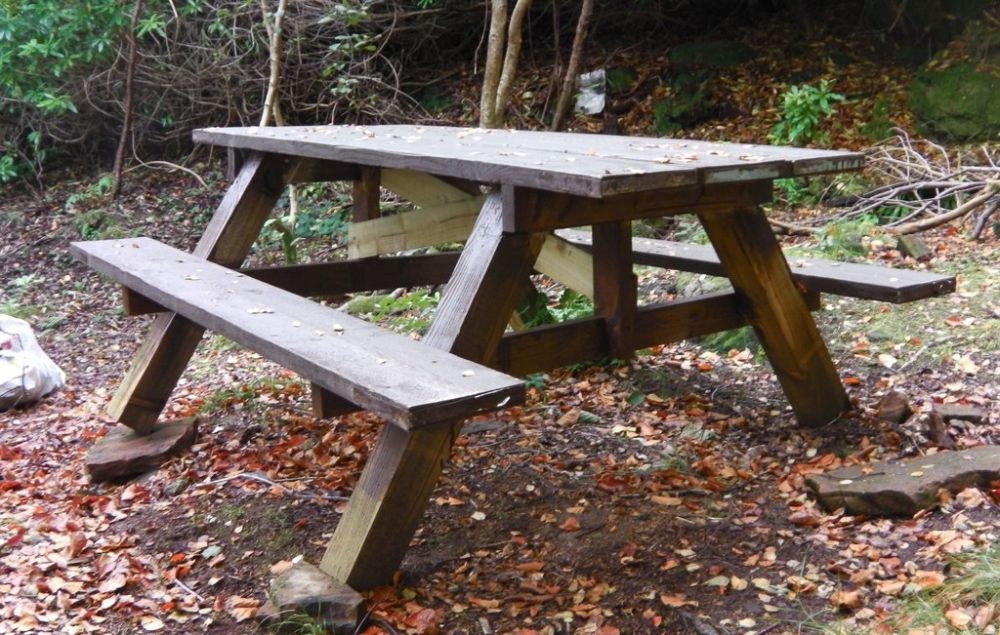 My Homebuilt Picnic bench.
You've got the
seating
, the
table
and
the

workbench
while you build the hut.. Think about it.
Foldaway camping chairs
are ideal to relax in, permanent feature for me, enhanced with an old sheepskin rug for extra comfort. Get the slightly more expensive ones with cup holders in the arms… Saves bending down for the essential beverage…..
Beds, bunks
Scour the
Auctions
, even
remainders
of furniture stores.
House clearance/Second hand furniture stores

…...
My Futon Lounger/Double Bed is made from two halves of a slatted mattress base for a double bed, from IKEA.(Discards!) Two for £30. Long multi-hinge wooden strap made and fixed between them. Hey-ho a folding bedframe. Building the base was easy. Just whatever planking and posts that were available.
No need for runners either. I used laminate flooring strips, hardwood, solid, slippery enough for ease.
Also made room for storage boxes underneath. Wooden boxes! with lids, lockable.



I wouldn't use plastic boxes, certain types of plastic is delicacy where field mice are concerned.. (Experience)
I got the Mattress, brand new, for £40 through Craiglist, just waited until the right opportunity came along. Only had to collect.
[
Kitchen/storage.
Any old
reclaimed
or even 'new'
Kitchen cabinets
will do. Lots of
'universal fit
. You can easily change the depth and height it's mostly 'composite', conti-board etc. If its better quality, even better.
You can always change the
kitchen unit doors
to 'rustic, to suit, if wanted. Or, cover with a suitable means to your liking.
Old wooden sideboards
are a dream, solid, reliable, don't break easily, can be glued /screwed back together again, can be painted, cheap.
Found in
auction houses, house clearance, second-hand stores

,
you name it there's tons about.
Recyclable to. Once you start getting 'posh' and 'upgrade' You've always got them for kindling. The drawers for storage boxes.
Worktops
,
Readily available as
discards
from
DIY Stores, kitchen outlets
…
Make your own, 4x Joist 7x 2in(ish!), Joined with dowel pegs and glued.. Clamp to secure with ratchet straps from an auto/diy store. Solid, indestructible, a workbench too, if needed.
Pots, pans etc.
Raid your kitchen it could do with a clearout. Missus needs new stuff anyway..
But, don't swipe the favourite wee milk pan.. pain of death!!.
Other than '
re-cycling

'
,
Lidl
,
(Other)
excellent source of everything
kitchenalia
, damned good quality given the use you'll probably put it to.
Just another wee point. Lidl, excellent source of screw nails. Loads at times, differing sizes, excellent quality and well boxed, by the 100s.. I did the whole of the cladding outside my hut in featherboard planks very cheaply. Screws were Torx head but that's good, Torx tips easy to get (Screwfix) and not easy for your 'average' vandal to undo…...
Food store
,
Metal containers
, seal closed. An
old fridge
, remove pump electrics etc.
Use the carcass only. Clean, solid good door seal
. Free..
Try intercepting 'a donor'' at a dump before the Council Scavengers get it.
Lighting and Heating….Will probably cover later, in more practical terms.
---
Posts: 1
Joined: 26 Aug 2019, 11:31
That's amazing hut I suppose because It's very old and inspirational and looking peaceful and very sober.
---
---
Who is online
Users browsing this forum: No registered users and 0 guests